Floorplans
Floorplans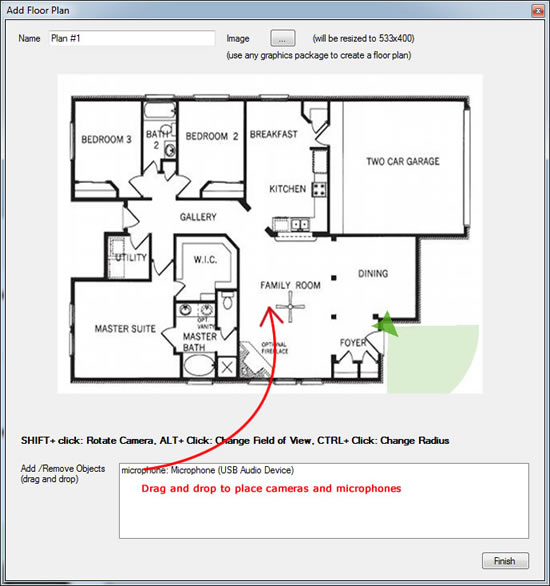 Floorplans let you visualise where your cameras and microphones are around your home or office. They also provide live feedback of what your they're doing - cameras will be black if offline, flash red if they're detecting sound/ motion or stay green if everything is fine. Floorplans also hook into iSpyConnect and provide live alerting services (including audible alarms) through the web browser. You can add as many floorplans as you like into iSpy.
Adding a Floorplan:
iSpy comes with a few example floorplans. A floorplan is just a flat image of your home or office - you can create one in any drawing package (eg Adobe Fireworks, Photoshop or even MS Paint). The floor plan needs to be 533px wide by 400px high. It will be resized automatically if needed.
Next, drag your cameras and microphones onto the floorplan from the listbox below. If you want to remove something just drag it off the floorplan and it'll go back into the listbox.
When positioning your cameras you can also hold down certain keys with the left mouse button to change various aspects:

SHIFT: Rotate the camera
ALT: Change the size of the field of view
CTRL: Change the radius of the Field of View

When you have arranged your cameras and microphones click Finish to add the floorplan to the iSpy Surface. It will now also be available on the iSpyConnect website.