Grant or Deny Access
Giving Others Access (Permissions)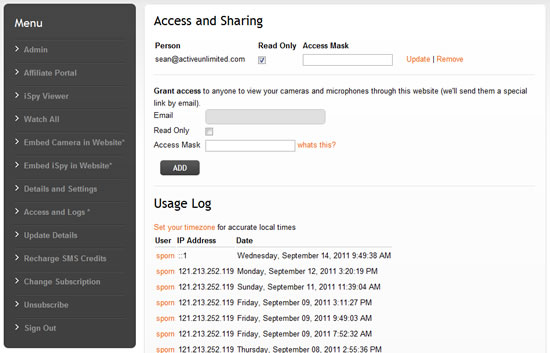 iSpyConnect allows you to share access to your cameras and microphones with friends, family, customers or co-workers (subscribers only). To give someone else access click on the "Access and Logs" link on the left hand menu. When you give someone access to iSpy we send them a special link by email. You can grant them full access (they are able to switch on/off, record, delete etc) or read-only access and you can revoke access at any time through the same page.
When they login to ispyconnect they will see a link on their account page under "ACCESS PERMISSIONS" to view content on your iSpy server.
Access Mask
You can specify an access mask to restrict the cameras and microphones available to certain people. The access mask uses the "Groups" field from the camera or microphone (on the first tab when editing the camera or microphone in iSpy) to determine whether to grant access or not. For example, if you enter "Office,Family,Dad" under groups and then you enter "Family" in the access mask field on this page then this person WILL be able to see this camera. If you entered "Neighbours" in the access mask field then they would NOT be able to view it. You can enter multiple access groups here - just separate them with a ','. Note that if you leave this field blank then the person will be able to view ALL cameras and microphones (default).
To prevent a camera or microphone from appearing in iSpyConnect you can use the special group name "exclude" (case sensitive).

Note that the groups field is also used by the http and command line interface.

Agent Notes
If using Agent you must specify the server name in the mask field and the group name you want to grant access to. For example: "MYPC,Birds" (no quotes)
Tracking Usage
iSpyConnect keeps a log of every user and IP address that logs into iSpy and accesses your account. You can keep track of this information on this page under "Usage Log". Clicking on the username brings up an email link for that person.