Mobile Devices
Mobile Device Access
iSpyConnect provides a mobile version here: here.
iOS / Android/ Windows 7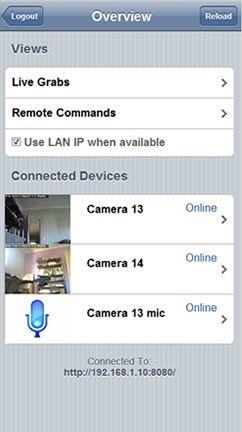 The mobile iSpyConnect website lets you do nearly everything the main iSpyConnect site can. The view is formatted for display on iPhones, Android and Windows 7 phones (subject to HTML5 availability). Press the thumbnails to view a live feed, or click the icons along each row to access stored content (audio and video with bulk delete), control panel or to switch on/ off the object.

You can install this as an application on your iPhone or iPad device by navigating to http://www.ispyconnect.com/mobile in Safari and clicking on the prompt to add it to your home screen.