Searching, Filtering and Sorting Content
Searching, Filtering and Sorting Content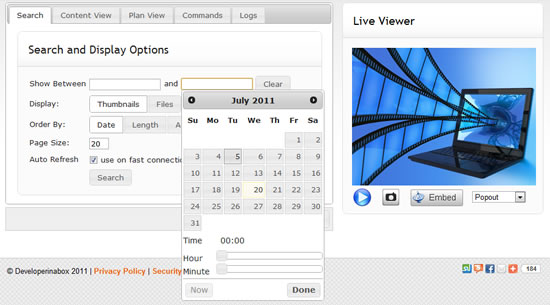 This is the main watch page for iSpy and is where you view live video and audio feeds, captured content and pretty much everything else. iSpy stores a fair amount of data with the files it captures which enables iSpy to search, order and filter videos accurately and quickly.
Use the tabs along the top to access your saved content, floorplans, remote commands and logs.
Tips:
By default the search page imposes no restrictions on the content returned. If you add a date range in iSpy will filter all the content to that date-range so it's quite likely that new content won't appear (unless of course it falls within your date range) - to get at the new content, click Clear on the Search page and click Search again.
If you are on a slow connection, or if you just prefer it, you can tell iSpyConnect to display a list of files instead of thumbnails for the videos by changing the "Display Type".
You can order the content by Date (default), Length or Activity.
Using the Auto Refresh option can cause issues on slow connections (by slow we mean dialup). If you are experiencing script errors or browser hangups try disabling auto refresh.