Viewing Online
Viewing Content Online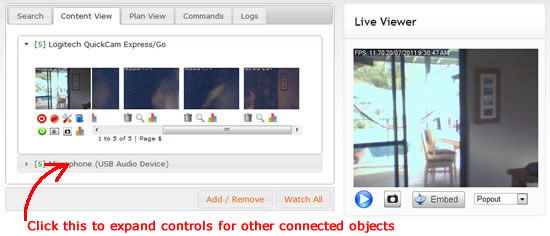 This tab contains all the stored content and controls for all connected cameras and microphones. Click the left-most thumbnail (a live grab from your camera) to watch live video in the "Live Viewer" on the right. The scrollable area to the right of the thumbnail contains all the content that this camera has recorded.
The images in this scrollable container are saved at the point of maximum movement through the recording. Clicking on the thumbnail will play the content through either a Flash player or HTML5 player (if Flash isn't available).
The three icons below each video thumbnail are controls to delete, view a full resolution image of the maximum motion frame and view the activity information for the file.

The icons below the thumbnail perform the following functions (left to right):
| | | | |
| --- | --- | --- | --- |
| Switch On/ Off | Record/ stop | Configure | Delete All Content |
| Refresh Files | Show File List | Take Snapshot | Show Activity Graph |
You can access content or live feeds from other cameras and microphones by expanding the panel for that object. To conserve space, processing power and bandwidth iSpyConnect displays content for one object at a time.