Profiles in Agent DVR store key properties about devices:
Enabled Status
Alerts Enabled
Record Mode (Alert/ Detect/ Manual)
Recording Status (manual recording on/ off)
Photos Enabled
FTP Enabled
Timelapse Enabled
Facial Recognition Enabled
Object Recognition Enabled
LPR Enabled
Motion Detector Enabled
Cloud Upload Recordings Enabled
Cloud Upload Photos Enabled
Plugin Enabled
Which Actions are enabled/ disabled (v4.1.0.0+):
Motion/ sound detector type, gain and min/ max sensitivity
There are four profiles you can set up: Home, Away, Night and Disabled. You can change the names of these profiles but be aware that integrations require fixed naming to work correctly.
To setup a profile, configure the devices how you like and then go to - Profiles and click the Save icon next to the profile you want to edit. Repeat the process for the other profiles.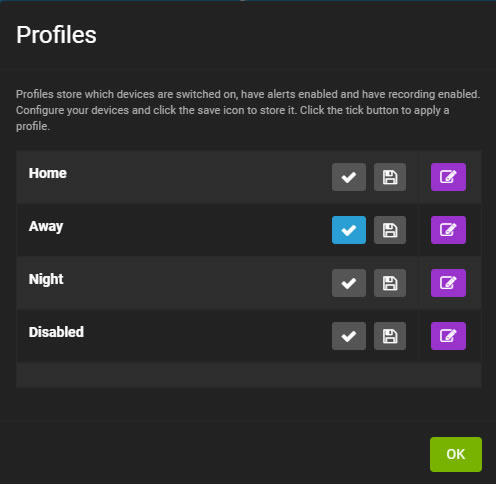 Click the button to apply a profile. The button highlights to show the most recently applied profile.
Click the button to save the current device statuses to the profile
Click the button to change the name of the profile
Tip: You can also apply these profiles via the api (using setProfile) or via integrations. You can set an optional default profile to apply when arming or disarming Agent in Settings - Security.