The Timeline provides a simple way to visualize events chronologically. Recordings from all devices are arranged in order. Swipe or click and drag with the mouse to navigate or use the mouse wheel or pinch gestures to zoom in and out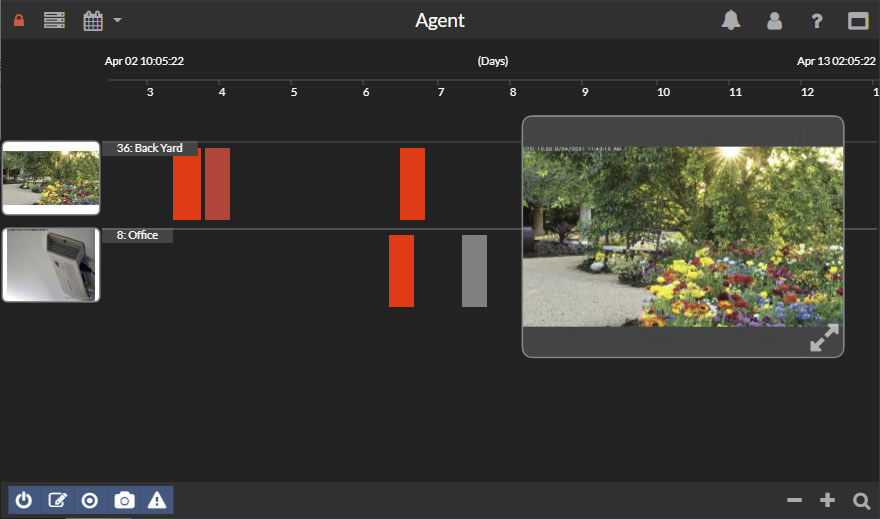 ---
Tips:
To manually search by date range click on the filter icon at bottom right.
The filter also lets you enter tags so you can filter by "person" or "cat" if you have manually tagged your recordings or used DeepStack AI to tag them for you.
Filter by activity level using the range control
Check the timelapse option to only show timelapse recordings
Enable and disable the filter using the On/Off switch at the top
Timelapse recordings are displayed alongside regular recordings but only take up half the available height within the slot.
Recordings are color coded according to how much peak motion was detected. Bright red bars indicate high levels of movement.
Zoom in far enough and Agent will display thumbnails for the recordings when there is enough space
Click on a recording to enter playback mode
If your screen is wide enough Agent will display live thumbnails of your devices on the left
Click on a live thumbnail to show a mini live feed (video and audio). You can drag this live feed around the screen to move it away from other controls. Click the thumbnail again to exit the mini player.