Getting Started with Agent
These instructions are for our old version of Agent.
Click here
for the new version.
About
Agent is a standalone replacement for iSpy that runs as a service, uses less CPU and features a web user interface that is accessible from anywhere with no port forwarding required!
We recommend that you use either iSpy or Agent - you can use both but it may cause issues with device drivers and network access.
Installing
Download Agent from here and run the installer. You can choose to run Agent as a windows service or as a console application.
Agent will prompt you to pair with your ispyconnect account and when that is done you can access it from anywhere with an internet connection via the monitor
Important: iSpy and agent both use this portal. If you have both connected to the same account you will need to click to switch to the other portal from your account page. It will look like this:

If you have problems connecting Agent then run Agent.exe in windows and it will start as a console application and should tell you how to connect to it. If it says it is already running as a service then stop the service by clicking start - run and enter "services.msc". Find Agent in the list, right click it and click stop.
Uninstalling
If Agent is running as a service then stop the service (as above) and run agent-uninstall-service.bat in the Agent directory
To uninstall Agent just delete the Agent directory (Agent is a portable application so doesn't install into the add/remove programs list in Windows).
Using Agent
Agent does not have a windows user interface like iSpy does. The user interface is all online via our web portal or mobile applications
Once Agent is connected, login to the web portal (make sure it says "Agent" at the top. If not, click the link on the summary page to switch to the Agent portal). You should see a getting started message. To start adding cameras to Agent click on your server in the menu. Sometimes it might take a few seconds to connect to your server. Once it's successfully connected you should see "connected" or "completed" next to your server on your summary page: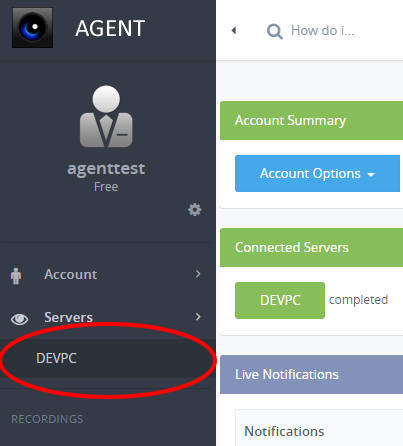 Once it's connected you can then use the Add Device drop-down to start adding cameras: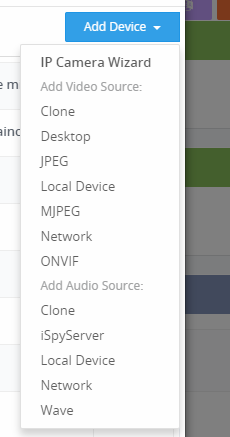 Using in-built help
Agent has an inbuilt help system. Just ask a question and Agent will tell you how to do it.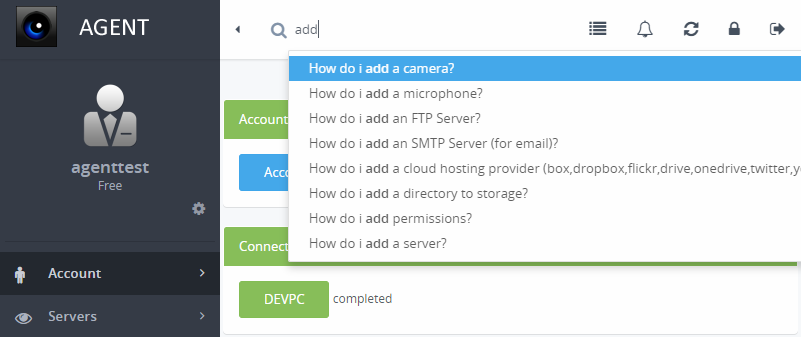 Tip: Enter a keyword here to see available options, for example "cloud" or "youtube" (without the quotes).