Floorplans let you visualize where your devices are around your property and let you quickly switch to live views from those devices and monitor alert states in real time. You access floorplans using the view selector at top left of the screen.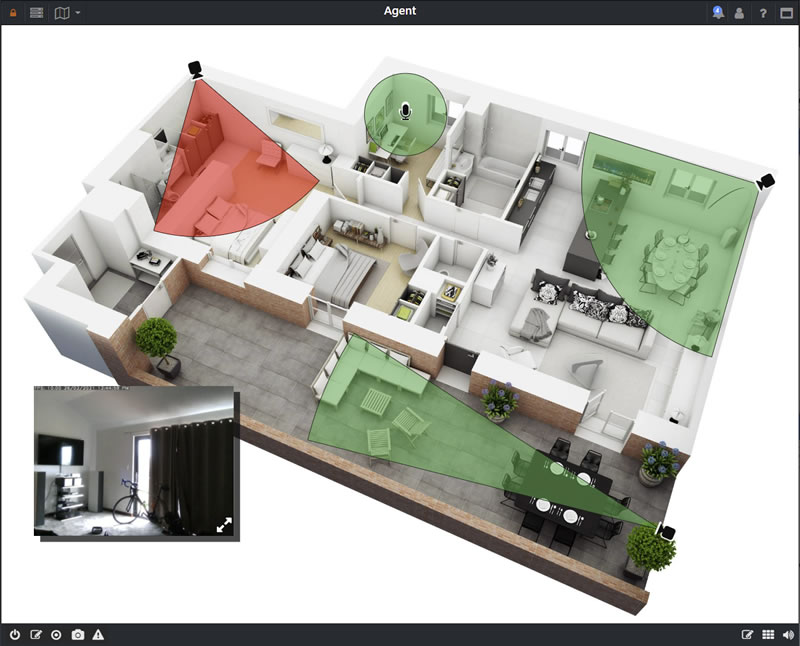 ---
To get started, click the edit icon at bottom right. Give your plan a name and upload an image of your floor plan. Agent will resize it to fit the available area. Next check which devices you want to include on the floor plan and click OK. Agent will add the devices in random locations. You can then click the edit icon at bottom left to enter or exit edit mode: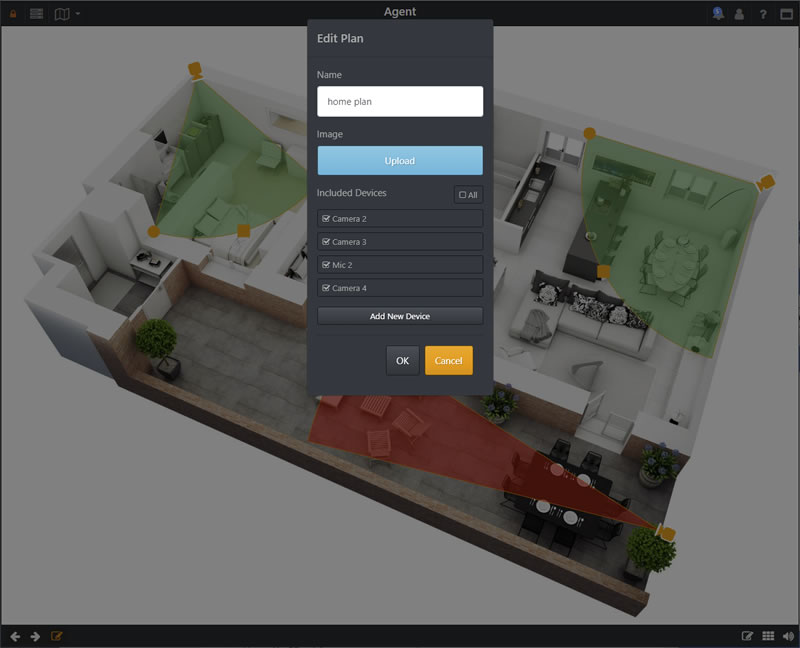 ---
To position the devices, click and drag the icon (camera or microphone) to the correct location on the plan. You can use the square grip to rotate a device and the circular grip to change the field of view. When you are done editing click the edit button again to turn off edit mode. You can change the icons Agent uses for the devices by editing the device and setting the Icon field on the General tab.
Using floorplans
There are 9 available slots for floorplans in Agent (you can edit this in server settings, local server, Plans field). Agent will lay all floorplans with associated devices out on a grid. You can click on a floorplan to select it and click it again to maximise/ minimise it. To edit a floor plan click the Views icon at bottom right and choose a plan from the list.
Tips:
To remove a floorplan, edit it and deselect all devices.
When a device alerts, the detection area will flash red.
If a device is recording a recording marker will appear next to that device.
If a device is offline the detection area will be dark gray. Online it will be green.
Click on a device (when not in edit mode) to show a mini live feed (video and audio). You can drag this live feed around the screen to move it away from other controls. Click the device again to exit the mini player. The selected device will animate to show it's currently being viewed.
With a device selected the controls at bottom left will change to let you work with that device - (power it on/off, edit it, start recording etc).
Use the expand icon in the mini live player to go full size with the video. Click on the full size video to exit.
Agent will save your changes as you go.
You can upload any size image. Agent will rescale the UI to work with it on any device.